The School's Swimming Sensation Makes a SPLASH in the Pool
October 9, 2023
2023-10-09 11:26
The School's Swimming Sensation Makes a SPLASH in the Pool
The School's Swimming Sensation Makes a SPLASH in the Pool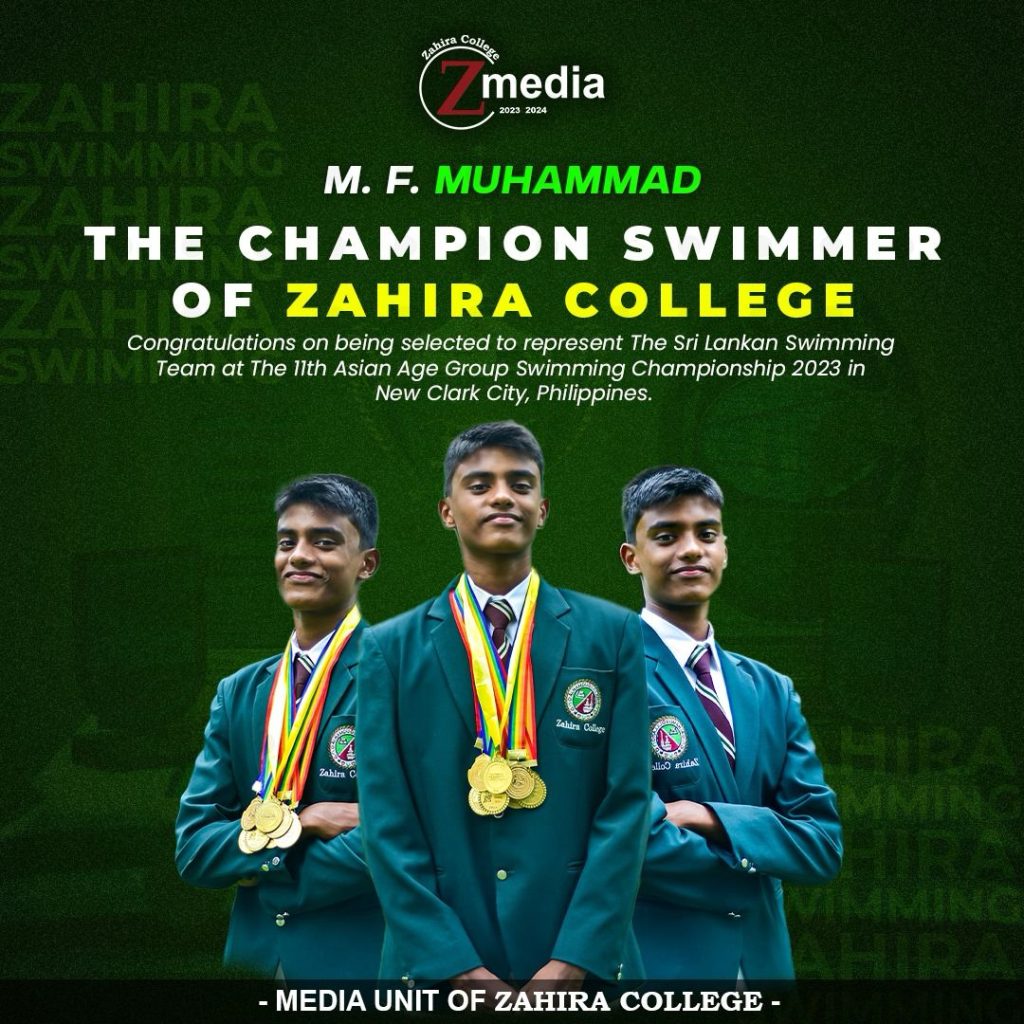 In the world of school sports, there's a rising star who's been making waves both in the pool and in the hearts of his school. Meet M. F Muhammad, the school's swimming champion, whose dedication and talent have made him a true inspiration to all.
From the moment Muhammad first took to the water, it was clear that he had a natural gift for swimming. His journey began at the school's swimming program, where he quickly caught the eye of his coach and the audience. With their guidance and his tireless dedication, Muhammad's skills improved by leaps and bounds.
From inter school to National programs, here are some achievements where M.F Muhammad shone his best.
National & Junior National Swimming CHAMPION 2022 with a Junior National Record (Short course)

Selected for National Swimming Squad 2023 for his performance at National & Junior National Swimming Championship (Long course)

Under 16 Boys CHAMPION Vidudaya Ritzbury Swimming Championship 2023
Under 16 Boys CHAMPION (with 2 new age group records) Sri Lanka Schools Swimming Championship 2023
Under 17 Boys CHAMPION (with 3 new age group records) National age group Swimming Championship 2023
Under 17 Boys CHAMPION Pentathlon Swimming Championship 2023
Sri Lanka National School Games
50M Breast Stroke 31.39 seconds (National Record)
200M Individual Medley 2:18:65 (National Record)
100M Breast Stroke 1:09:81 (National Record)
Western Province Swimming
50M Breast Stroke – Gold Medal
100M Breast Stroke – Gold Medal
200M Individual Medley – Gold Medal
M. F Muhammad's outstanding achievements in the pool consistently dominate competitions, breaking records and setting new standards in various swimming events. His incredible speed and stamina have earned him numerous gold medals and the admiration from all of us.
In this moment of great pride for our school, M. F Muhammad's journey becomes greater in the international waters as he was set to represent The Sri Lankan Swimming Team at the 11th Asian Age Group Swimming Championshiop 2023 in New Clark Cirt, Philippines.
With his selection, Muhammad is not only realizing his dreams but also making his family, coaches, the school and the entire nation proud. His journey to this international competition has been marked by early morning practices, countless laps in the pool and a commitment to excellence that is truly commendable.
This also calls for the appreciation for his swimming coach Mr. Fawaz, the Unsung Hero behind the Champion who is a beacon of guidance and mentorship and the one who has been the driving force behind our Champion's outstanding performance.
Looking ahead, M. F Muhammad's future in swimming shines bright. As the world recognizes his talent, the prospects for his swimming journey are promising and triumphant.
Thus, the entire school is behind him, cheering him on every stroke of the way because he is our star whose name shall not be forgotten in the books of our school's history. We wish M.F Muhammad the best of luck.