Zahira College Students Excel at MagicBit Robotics with IoT Workshop on Obstacle Avoiding Robots
August 31, 2023
2023-08-31 2:03
Zahira College Students Excel at MagicBit Robotics with IoT Workshop on Obstacle Avoiding Robots
Zahira College Students Excel at MagicBit Robotics with IoT Workshop on Obstacle Avoiding Robots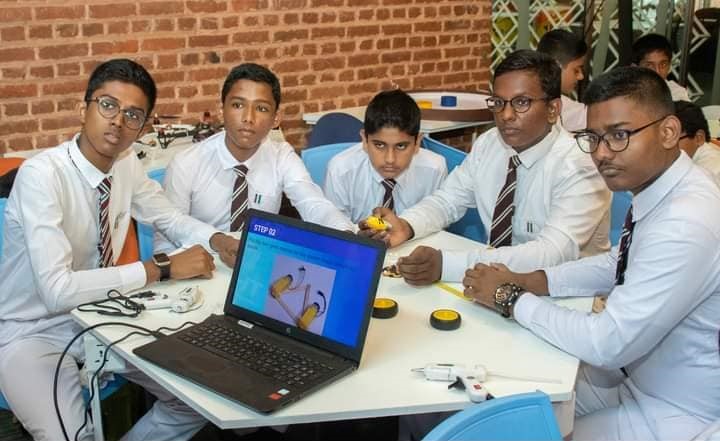 The successful participation of 20 enthusiastic students from Zahira College, Colombo, in a dynamic workshop focused on MagicBit Robotics with IoT. The workshop, held at Trace – Colombo on the 22nd August 2023, centered around the intriguing topic of creating Obstacle Avoiding Robots.
A group of 20 talented students from Zahira College took part in this innovative workshop, which was organized in collaboration with the Young Inventors' Club. The workshop aimed to provide students with a hands-on experience in robotics and the Internet of Things (IoT). By focusing on the creation of Obstacle Avoiding Robots, students learned about sensor integration, programming logic, and the practical application of robotics technology. The involvement of the Young Inventors' Club of the College ensured a dynamic learning environment where students were encouraged to brainstorm, collaborate, and share creative ideas. The workshop leveraged the MagicBit platform, empowering students to work with cutting-edge hardware and software components. Through this platform, students gained insights into sensors such as ultrasonic sensors, motor control mechanisms, and the programming required for effective obstacle avoidance.
Event Highlights:
Participating students not only enhanced their technical skills but also gained valuable insights into teamwork, problem-solving, and critical thinking. The workshop nurtured their creativity and innovation, fostering a passion for robotics and technology. This experience marks a significant step towards nurturing the next generation of tech-savvy innovators and engineers.