Zahira College Felicitates Scouts Headed to World Scout Jamboree 2023 in Korea
July 25, 2023
2023-08-08 10:15
Zahira College Felicitates Scouts Headed to World Scout Jamboree 2023 in Korea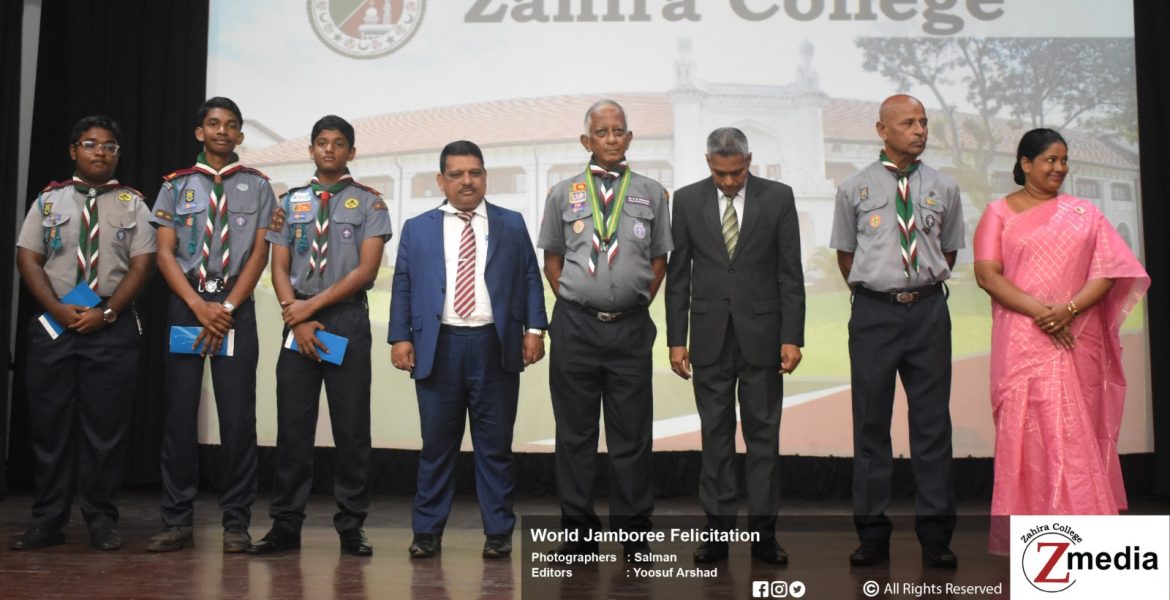 Zahira College Felicitates Scouts Headed to World Scout Jamboree 2023 in Korea
On the morning of July 24, 2023, Zahira College Colombo held a special felicitation ceremony to honor three outstanding Scouts: Shamrin Shaffe, Bilal Ramzeen, and Fatha Rizwan. These remarkable individuals have been selected to participate in the prestigious 25th World Scout Jamboree in Korea, scheduled from August 2nd to August 14th 2023, as members of the Sri Lanka Contingent.
Addressing the entire school during the Morning Assembly, Principal Mr. Trizviiy Marikkar expressed his heartfelt congratulations to the three Scouts and extended his best wishes for their upcoming journey. He encouraged them to make the most of this unique opportunity while ensuring their safety throughout the event.
A pivotal figure in the event, Mr. M.F.S. Muheed, Chairman of the Zahira Scout Committee and Deputy Chief Scout Commissioner, took the stage to present the Air tickets to the three lucky Scouts. His involvement and support demonstrated the school's commitment to fostering scout activities and international participation.
Mr. Muheed also took the opportunity to shed light on the significance of the World Scout Jamboree and reminisced about past instances where Zahira Scouts had represented the school on global platforms. Such experiences highlight the institution's dedication to providing its students with diverse and enriching opportunities.
Furthermore, Mr. Muheed emphasized the vital role of the scout movement in shaping young minds, instilling character, and nurturing discipline. He underscored the profound impact of scouting in nurturing responsible and exemplary citizens.
The event was graced by the presence of several esteemed school staff members who showed their support and encouragement for the three Scouts. Among them were Mr. M. Shazuli – Deputy Principal (Administration), Mrs. Zeenath Ismail – Vice Principal (Co-curricular), Mr. M. Mihlar – Vice Principal (Tamil), and Mr. A.M. Amanullah – Master in Charge (Scout).
Overall, the Morning Assembly felicitation ceremony served as a heartening tribute to the three Scouts, recognizing their dedication and commitment to representing their country on an international stage. It also reaffirmed Zahira College's commitment to promoting character development and global engagement through scouting activities.